At its best, outdoor living combines architectural structures with elements of the natural world. When looking to create privacy in urban or suburban outdoor settings, 'living walls' make a great natural alternative to fencing and other privacy structures.
Evergreen trees make for great privacy plants, and these medium-to-large selections can be used both in suburban settings and even in larger, rural applications. Check out the following large evergreens for living walls, and learn more about each with our Plant Profiles.
What is a Living Wall?
Also referred to as green screens, privacy planting and border plantings, a living wall is any plant installation that serves as a barrier in the landscape.
Check out our list of select evergreen trees for large living walls below. These plants are suited to the Pittsburgh climate, and evergreens of varying sizes and foliage can meet a range of needs in living wall plantings.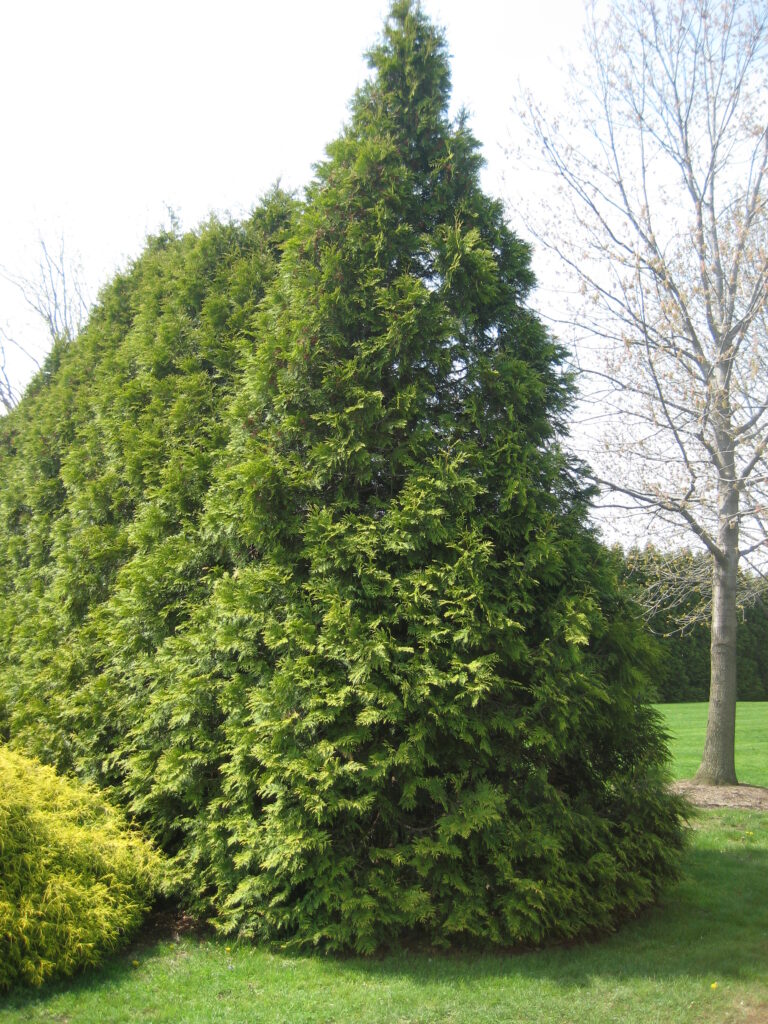 Arborvitae species range from compact shrubs to massive trees, and a number of them make for great living walls. Choosing the cultivar that is best suited to your landscape is key to creating the right living wall.
At 15′ in mature height, Arborvitae 'Elegantissima' make fine natural barriers in suburban settings where space is ample.
'Elegantissima' features soft needles that remain evergreen, providing year-round privacy. The conical shape is natural and pruning is not required, save for the occasional irregular branch.
Growing to only 15′, these elegant evergreens are suitable to smaller suburban yards. 'Elegantissima' tend to fare better in city or suburban yards where deer are less present. Bare spots in the foliage along the bottom of the trees can be signs of damage from deer, and such plantings should be accompanied by deer repellants when possible.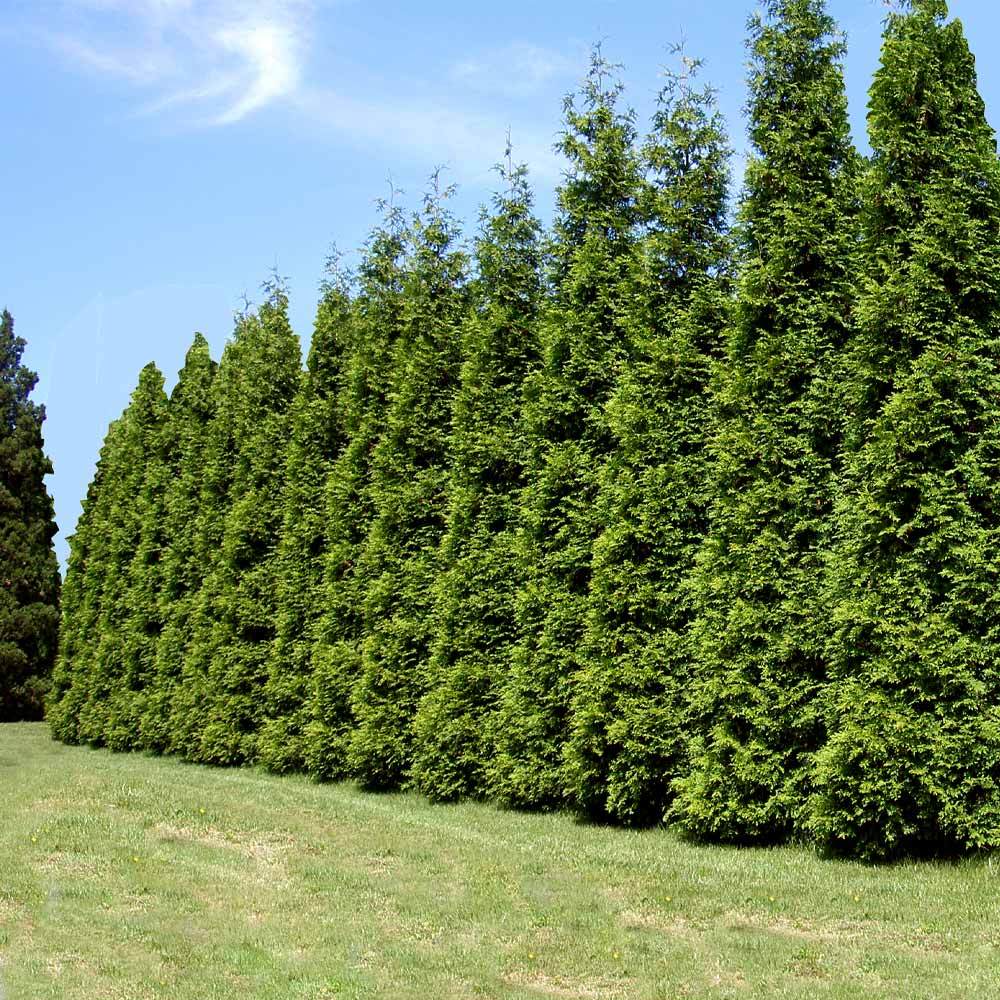 'Green Giant' is another Arborvitae variety that is commonly used as natural fencing. These huge trees have soft needles and rarely need pruned. Unlike many evergreen hedge options, they are deer resistant, so there is little risk of lower bare spots.
'Green Giant' can reach heights of up to 60′ and are extremely fast growing. Growth of up to 4′ per year can occur, so they are perfect for locations that need quick privacy, without the ability to relocate fully grown trees.
'Green Giant' can be more suitable to large landscapes, parks or corporate parks than other species of Arborvitae. An added benefit of 'Green Giant' is that they rival large deciduous trees in height, but there is minimal cleanup from fallen leaves or broken branches. These trees are very accepting of pruning and can be shaped into a tall hedge for more formal living walls.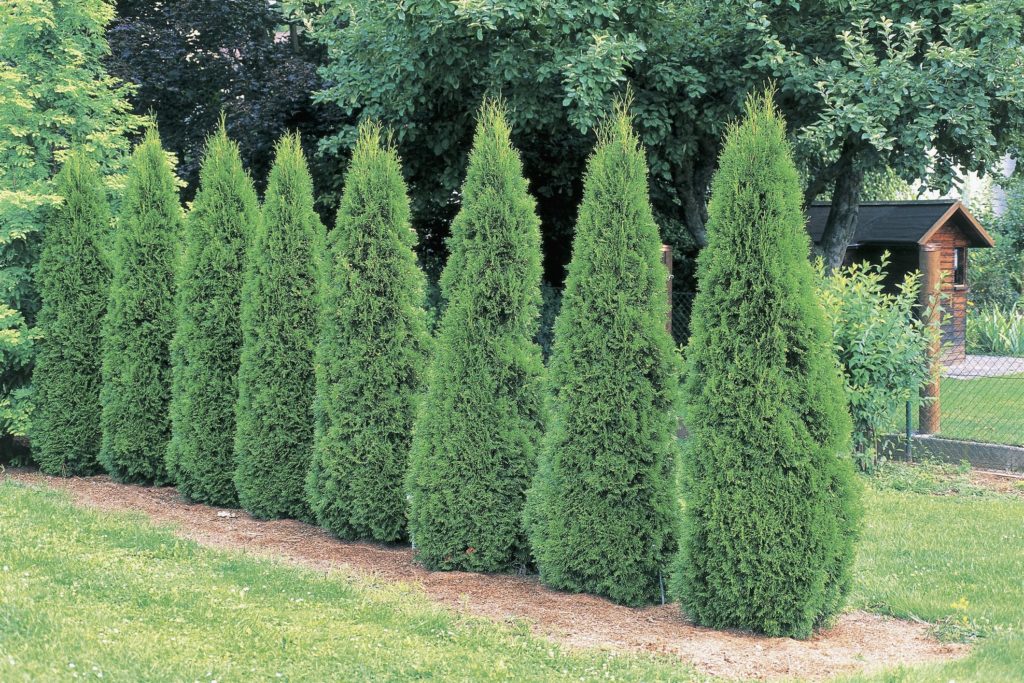 Not too big and not too small, 'Emerald Green' maxes out around 15′, making it the perfect border for medium sized or smaller suburban yards. The foliage is dense and compact, so kids and animals are less likely to run through the foliage than if the branches were more movable.
Like most Arborvitae, 'Emerald Green' is not naturally deer resistant and bare spots may appear if deer have easy access.
If more formal living walls are desired, 'Emerald Green' is accepting of heavy pruning and can be sculpted into a tall hedge. 'Emerald Green' are perfect for poolside privacy because they produce almost no litter throughout the year.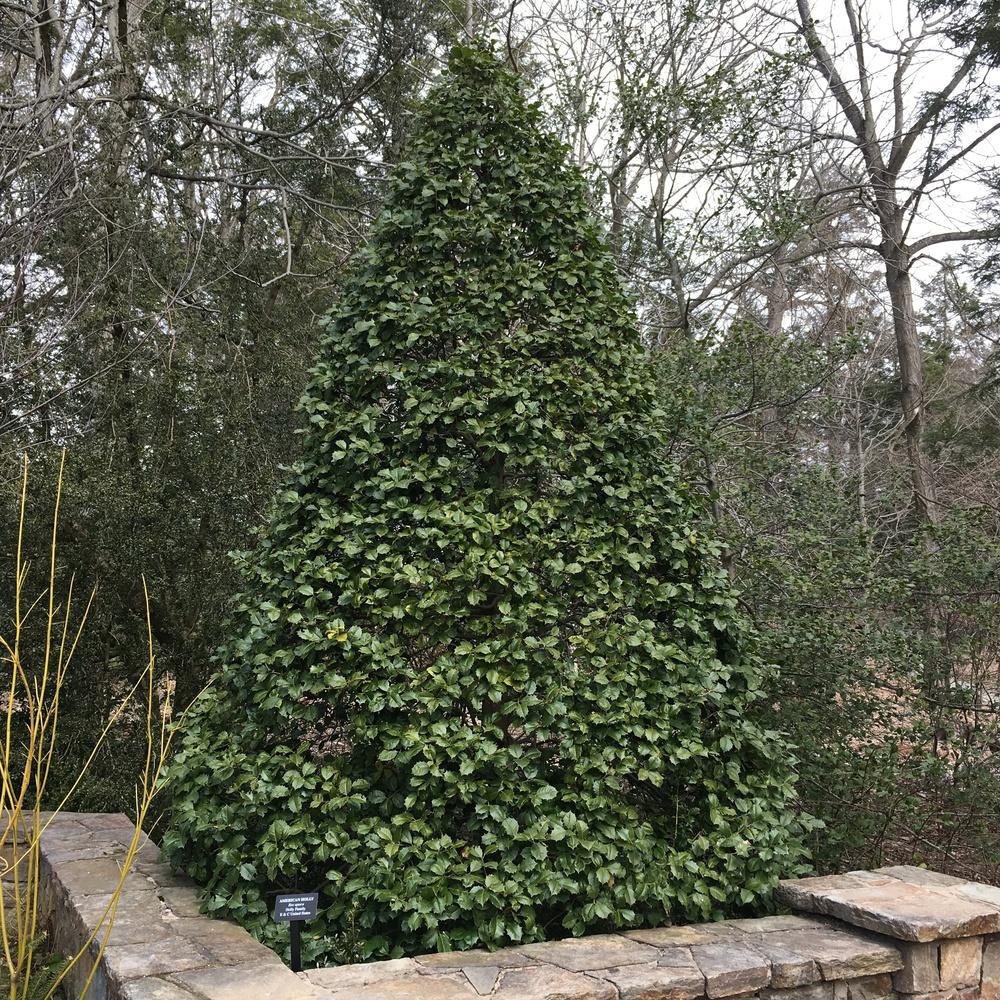 A native broadleaf evergreen, American Holly (Ilex opaca) can grow to 70′ tall in the wild, but are likely to remain around 30′ in height in cultivation.
American Holly are perfect for those who are interested in evergreens, but prefer a broadleaf rather than a needle. The sharp, pointy leaves keep away deer and other pests, but make a good home for birds.
American Holly is hardy and can be pruned out of its naturally conical shape and turned into a classic hedge. Like other evergreens, they are perfect for poolside living walls because there will be minimal litter throughout all four seasons.
While these trees can grow quite large, they are slow growing, and can be easily controlled with pruning and regular maintenance.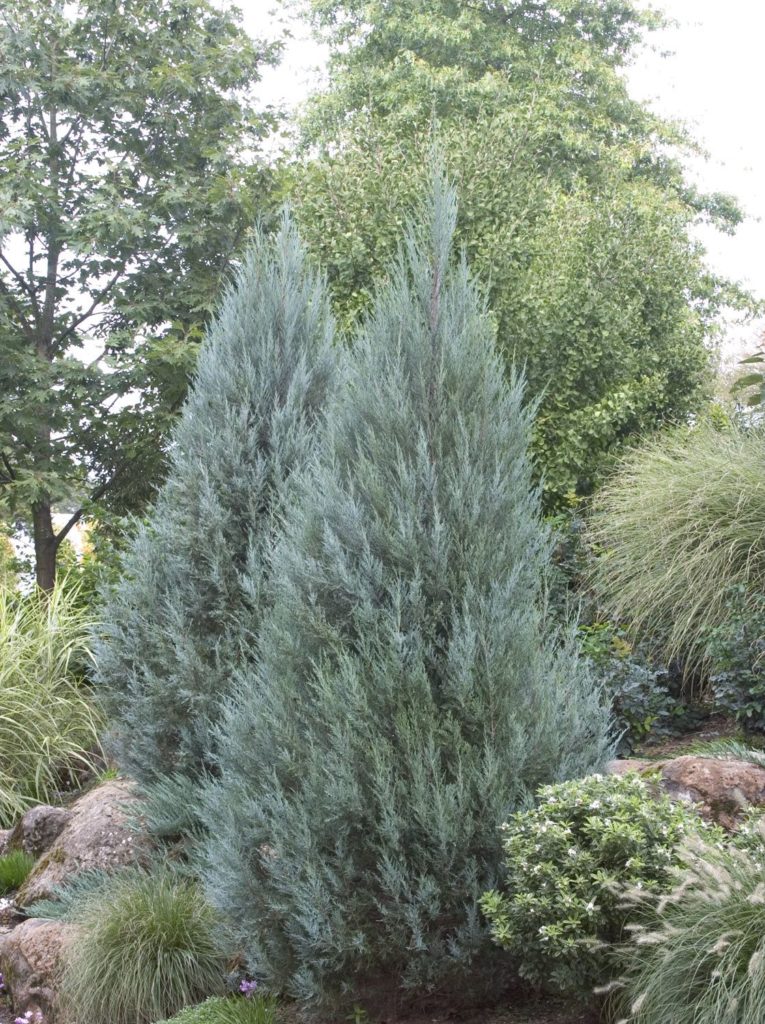 'Wichita Blue' are unique and textured evergreens with an uncommon blue-green color. The loose branches give the hedge a soft and informal appearance. Deer are generally uninterested in munching on the needles, so deer grazing shouldn't be a worry.
Reaching only 15′ tall, 'Wichita Blue' are ideal for small living walls, and can be a good substitute for 'Emerald Green' in areas where deer are a concern. Native to the Rocky Mountains, these trees are perfect for hillsides or shallow soils.
Because 'Wichita Blue' has a naturally conical shape, the bottom of the plant tends to be wider than the top without pruning to shape. They can be planted in zig-zag patterns to maximize privacy and minimize pruning, or shaped to create a controlled hedge. The evergreen needles result in no additional clean up with the season's change.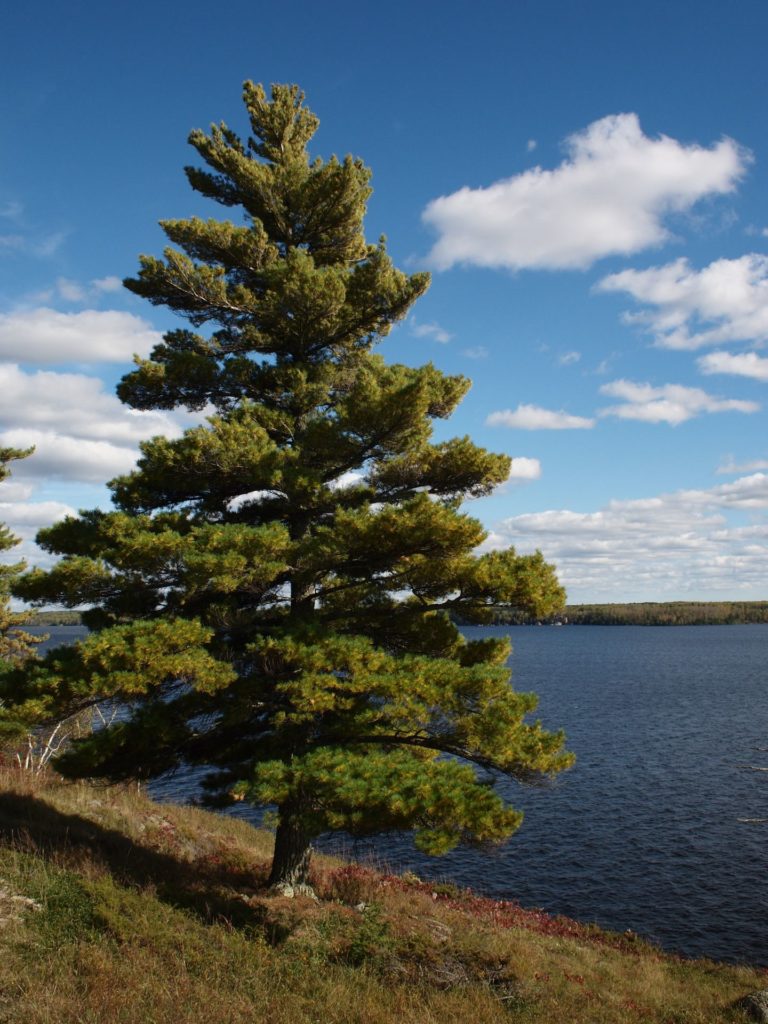 There are few trees as common in the Pennsylvania woods as Eastern White Pine. These huge, native trees can be found all over the Appalachian Mountains in untouched nature or planned landscaping. Typically maxing out around 80′, but with the ability to reach 100′, a row of Eastern White Pines creates total privacy for any property nearby.
Easter White Pines are perfect for large scale landscaping to surround private acreage, city parks or business parks. Their loosely packed branches don't create a total screen, so creating a small 'woodsy' area with a couple of rows will result in the most coverage.
An added benefit of their height is not only the total seclusion, but the wind-breaking effect that can make a windy hilltop more comfortable. A living wall made of White Pine can screen even the largest spaces from sun and wind.
The state tree of Pennsylvania, Canadian Hemlock can be found throughout the state's wild spaces and are at home in most landscape applications.
If you live along a forest edge, but don't appreciate the untidy appearance of the woodlands, Canadian Hemlock can border the forest as the shade from taller trees will not harm them. However, deer are attracted to Canadian Hemlock, so expect frequent visitors when located near wild spaces.
As with other large trees on this list, Canadian Hemlock is perfect for those who prefer wider trees that take up more space, city parks, or large landscapes. Canadian Hemlock can be pruned into a large hedge, especially dwarf cultivars.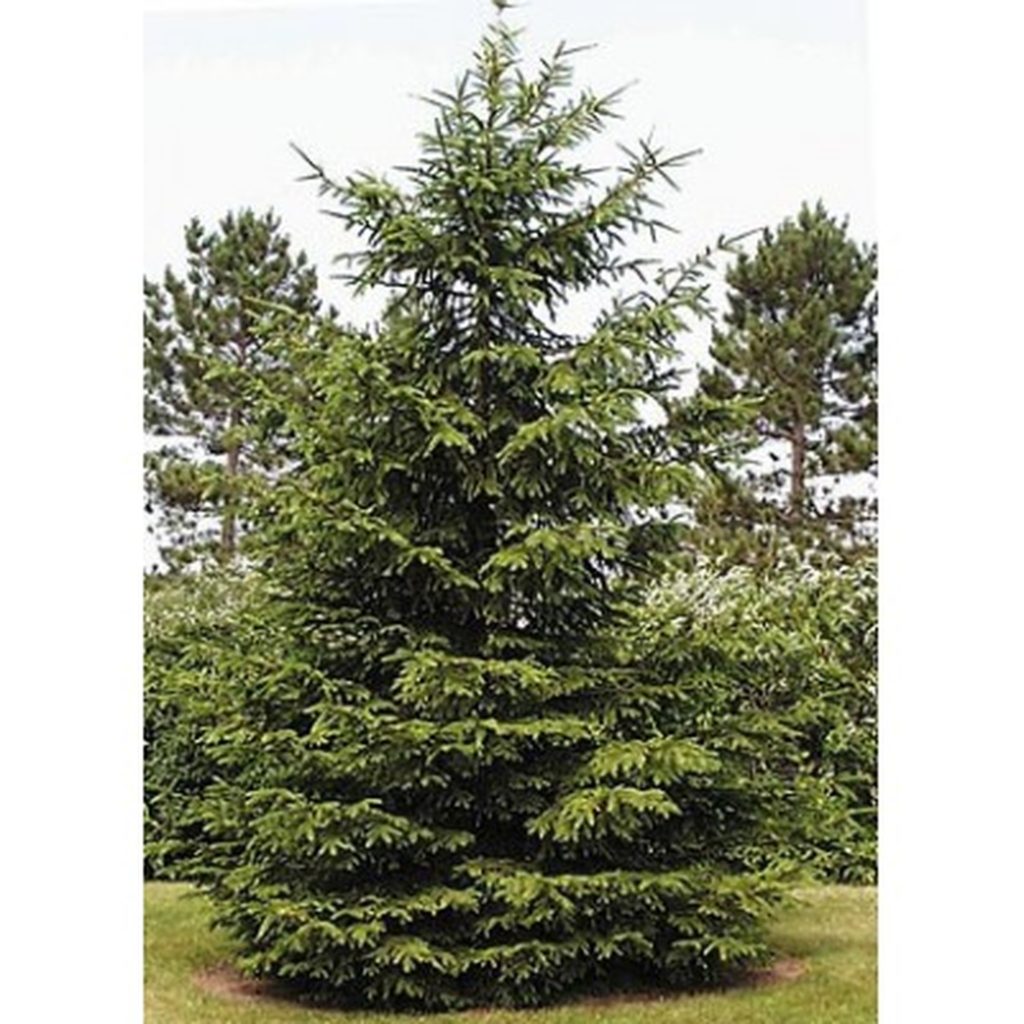 Another recognizable evergreen that is common in Pennsylvania forests are Norway Spruce.
Norway Spruce often grow to 60′ tall and provide ample coverage for large landscapes. While they are useful as green screens, they have the added benefit of being effective windbreakers.
Deer are not interested in the spiny needles and will generally leave them alone. A low-maintenance evergreen, Norway Spruce requires little maintenance once established. Needle drop and cones demand more cleanup than some other evergreen species, but it's large size and fast-growing habit make it an ideal living wall tree for large spaces.
Are you looking to create a large living wall for your property?
Nature can be a great escape, and the right evergreens can make great alternatives to traditional fencing. Visit our consultation request form at the button above, and we'll create a plan for your living wall plantings, green screens and natural barriers today.